The Challenge
How do you translate your perceived design ethos and positioning to your defined audience?
Revisit the geotagging workshop challenge from Week 2 of the Contemporary Practice module, and explore different studio philosophies through their about button and company statement.
Write an 'about' paragraph – an elevator pitch on either your current positioning or one you would like to establish. You may choose to take a speculative approach and envision your global dominance as a design studio superpower. Or as a more humble sole trader who works in a freelance capacity. Have your values changed since beginning the course? Is there a strategic approach your company would communicate to potential commissioners or clients?
Please consider the following in your approach:
What is the idea?
How does it work?
Why does it work?
Geotagging Challenge from Contemporary Practice
The blog post can be found here, and I am going to recap my work below with updates throughout as I rediscover these practices..
Design Practices
Dalton Maag
Address: 9th Floor, Blue Star House, 234–240 Stockwell Road, London SW9 9SP
Website: daltonmaag.com
Sector: Type design studio
Office presence: London, São Paulo
Company statement: "We are an independent type design studio. Behind Dalton Maag is an international team of 40 type designers, font developers, creative directors, software engineers and support staff, spanning 20 nationalities and speaking 12 languages. With an agile team structure and workflow, we can reliably handle custom font projects that are both sizeable and complex, in collaboration with global brands and against tight deadlines."
Own thoughts: The number of employees has consistently been around 40 people for a number of years, with growing numbers in finance and operations, which make up about 15% of the headcount. That seems, to me, a relatively small company given the huge projects that they take on for multi-national companies. They are very involved with education work, which appeals to me, as they open up their industry to new designers from different backgrounds.
In September 2019 I went to a talk they held in partnership with D&AD about the work they are doing on variable typefaces and Mixed Reality to keep the industry fresh and current and always accessible to everyday people.
Interesting work: Lush Handwritten typeface, Nokia Pure typeface
---
Faber Futures
Address: 12–16 Blenheim Grove, Peckham, London SE15 4QL
Website: faberfutures.com
Sector: Biodesign futures agency
Office presence: London
Company statement: "Faber Futures is a biodesign futures agency integrating design thinking with biotechnology. We believe that answers to some of the biggest challenges facing this planet can be found in nature. By learning from living systems and integrating design, biology and technology, our mission is to generate holistic models for sustainable futures."
Own thoughts: A little gem hiding in a collab-working space in Peckham! This such an interesting cross-disciplinary company that I've covered later in the module because I love the way they are working with scientists to create new technologies to ecological problems.
Since I looked at their website last, I have found more information about the company – either they have expanded or chose not to share this much before. The founder & CEO of the agency, NATSAI AUDREY CHIEZA, is joined by four other members of staff who appear to be employees and their roles are multidisciplinary across design, science and strategy.
Interesting work: Colour Coded – a bacterial pigment extract to be used to dye textiles using less water
---
Jelly
Address: 9–10 Charlotte Mews, London W1T 4EF
Website: jellylondon.com
Sector: Production company & artist management agency
Office presence: New York, London
Company statement: "We are an award-winning production company & artist management agency… [for production services] With studios in London and New York, we are able to play time difference to our advantage – our small experienced team will respond quickly, wherever you are. Our services include: Illustration, 3D / CGI, Animation, Character, Type. [for artist management] We curate a selection of global artists, designers, and animation directors producing work for clients around the world. No matter your brief, we're confident our talented Artists & Directors will be able to deliver truly brilliant creative work. We believe in supporting creators starting out their careers and with our expertise at spotting and nurturing new talent – we represent the very best new talent in the industry."
Own thoughts: I love the concept behind the Game of Thrones tapestry, partly as a marketing project, and as a way to bring old creative technologies. It's a great use of jacquard loom weaving because it fits with the fantastical theme of the show and links back to the Bayeux Tapestry. The story is literally weaved into is own fabric, with Northern Irish embroiderers adding details by hand.
They have also created their own production studio to work on their own projects and to work with the artists that they represent, giving everyone more specialised skills and more creative control. By championing up-and-coming designers they invest in the future of their company and the industry as a whole.
Interesting work: Game of Thrones tapestry and stained glass windows
---

Alan Kitching
Address: 19 Cleaver St, London SE11 4DP
Website: thetypographyworkshop.com
Sector: Practitioner of letterpress typographic design and printmaking
Office presence: London
Company statement: "In 1973 Alan began his own design practice in London with Colin Forbes. In 1977 he partnered with Derek Birdsall and Martin Lee at Omnific and started letterpress printing there in 1985. He began letterpress workshops in 1986 at Omnific Studios, Islington, London. He then went on to establish The Typography Workshop in Clerkenwell (1989). From 1994 he worked in partnership with designer/writer Celia Stothard (later his wife). In 1999, in partnership with designer and teacher, Celia Stothard FRSA, Kitching purchased a large collection of theatrical wood types, now named, 'Entertaining Types' and housed in Kennington, Lambeth, South London."
SOURCE: Wikipedia
The Philosophy
The resurgence of Letterpress over the last few decades has triggered a passionate respect for the craft of Typography & has reinforced its position in the visual arts. Letterpress has evolved as a natural ally to the graphic arts & identified itself as an exciting process to express ideas & an extraordinarily thorough process to examine language & typography.
As an antidote to the immediate & often dispensable nature of modern technology, the slow articulation of the technical side of Letterpress allows the designer to immerse themselves in the focus of the craft & revel in the simple joys of making.
There are very few letterpress facilities remaining in the British Isles & even fewer experts to instruct. Conceived & directed by leading typographic practitioner Kelvyn Smith & letterpress maestro Alan Kitching: The New Typography Workshop is a new – hands-on – school of design & typography with letterpress at its core. It offers art directors, artists, designers, printmakers & students the opportunity to study typography & work closely with wood letter & metal type, letterpress materials & printing equipment.
Interesting read: Interview on It's Nice That
Own thoughts: I'm not sure you can get a more iconic modern-day typographer: Kitching perfectly bridges the gap between typography and art. I'm used to typesetting for mono books, and to see his use of bright colour to really shout the type's message is refreshing for me! He runs workshops that I would really love to go to one day.
Interesting work: Royal Mail Millennium Stamps, The Guardian front cover
---
Design Resources
The Type Archive
Address: 100 Hackford Road, London SW9 0QU
Website: typearchive.org
Sector: Letterpress archive
Office presence: London
Company statement: "The Type Archive is home to the art of printed words. We hold an amazing collection of letterpress fonts in metal and wood which celebrates the joy of printing: the craft that has served as the fundamental basis of modern civilisation and graphic design. […] While modern type foundries are entirely digital (Monotype.com) the Type Archive's collection spans the nearly 600 year period when the foundry cut letters in steel, drove them into brass blanks, and cast lead type from them in molten lead."
Own thoughts: After the transition to desktop-publishing, I've heard stories about how cases of type were disposed of because they weren't needed and companies could not longer see a use of keeping them. Now, with letterpress making a resurgence, some people are kicking themselves for putting a case of Johnston in the skip! This archive is vital in retaining the centuries of technology used to make type and educating designers (like me!) how movable type was made and why we typeset today in the way that we do.
Considering my practice
Starting the MA has meant dismantling the walls I've built around myself and putting them under my feet to raise my skills and my practice. The aim of completing the course has always been to build firm foundations, to work and discover areas of graphic design that I've never worked on and didn't know how to start. Studying graphic design also means working on the chip on my shoulder: having segued into the industry I've always felt behind not being knowing the references and practices others seemed to.
I have the talent, now I need the confidence to show and market myself with honesty and integrity. It's important to me that I don't use overly complicated verbose language to describe myself, or hide behind words: sometimes on this course I've seen words that can obscure the meaning in order to sound more official and has ended in confusion! None of that please.
How do others present their statement?
&Walsh
We are a creative agency in NYC specializing in branding & advertising. We work with clients starting from the initial brand strategy phase to the design, art direction and final production of a project. We believe in creating beautiful, emotion-driven work that functions for our client's goals and resonates with their audiences.
One of our core missions is using our skills as creatives to start dialogues and create change. Our studio spends a significant amount of our time on self-initiated projects for social causes that are important to us. We've created events, books, exhibitions, and entire organizations for these social initiatives.

Craig Oldham
Working across numerous disciplines, the studio creates brands, books, websites, films, exhibitions, and objects. We also teach, write, curate and consult. And we do this for clients, audiences, and sometimes just for the joy of it.
We are a young and intentionally small team of creative problem solvers, makers and doers. And with extensive industry experience, we've learnt that the better the relationship we have with a client, the better the work will be.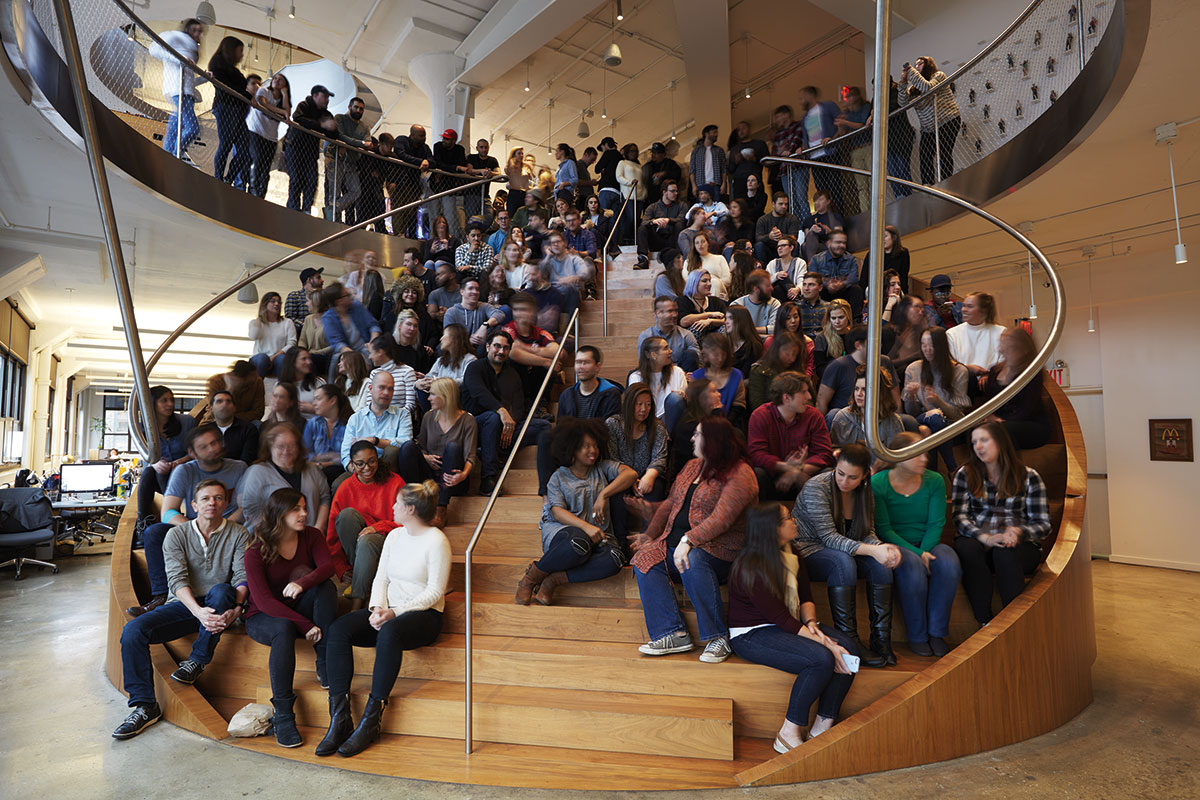 Wieden+Kennedy
Wieden+Kennedy is an independent, global creative company. We're here to do the best work of our lives with inspiring clients. We make work that influences culture and builds business value. Our global network comprises eight offices and 1400 people, and our work spans every discipline. We have world class media, design and tech operations. But everyone and everything at W+K is driven by creativity, and a core mission of building strong and provocative relationships between companies and their customers. Sam Winston
Sam Winston's practice is concerned with language not only as a carrier of messages but also as a visual form in and of itself. Initially known for his typography and artist's books he employs a variety of different approaches including drawing, performance and poetry.
Operating at the intersections of where visual culture and literature meet he has exhibited his work in museums and galleries around the world. […] All Winston's projects look to introduce audiences to new ways of thinking about and engaging with language.
Current/Speculative
At the moment I want to move forward, and realistically that will happen when this course concludes – there seems to be little point creating an official statement for where I am now, rather I will consider my current position and use that to work out where I want to go.
Working as a typesetter/artworker means that there is a constant demand for my services in such a way there hasn't been time to grow my skills in my role to progress on. Whilst this means that I have a secure role in a company that I love and respect, I could be doing this exact role until I retire and to push myself, I need to move on.
This course has shown me that typography is my strong suit, and what I enjoy working on the most. I've gone to courses on letterpress and to variable typefaces. I don't see typography going away because the written word, whether it is on screen or paper or a new technology will always be part of what it means to be human. There are chances for it to be improved and made more accessible as emergent technologies such as Mixed Reality become more commonplace, whilst knowing the history so as not to reinvent the wheel.
So, the statement is going to be a near-future speculation: something I want to aim for and to give me focus. I want to get involved in Mixed Reality, typography, and arts and culture, like theatre and accessibility to culture.
Here is my statement and video, in this post.