I've taken a lot of photographs of typography for this project, and I wanted to capture some images in another way. On the high street, there are some brass bricks laid into the pavement that say interesting facts about the area. They are so easy to overlook under the busy movement of people that it's a treasure to find a new one.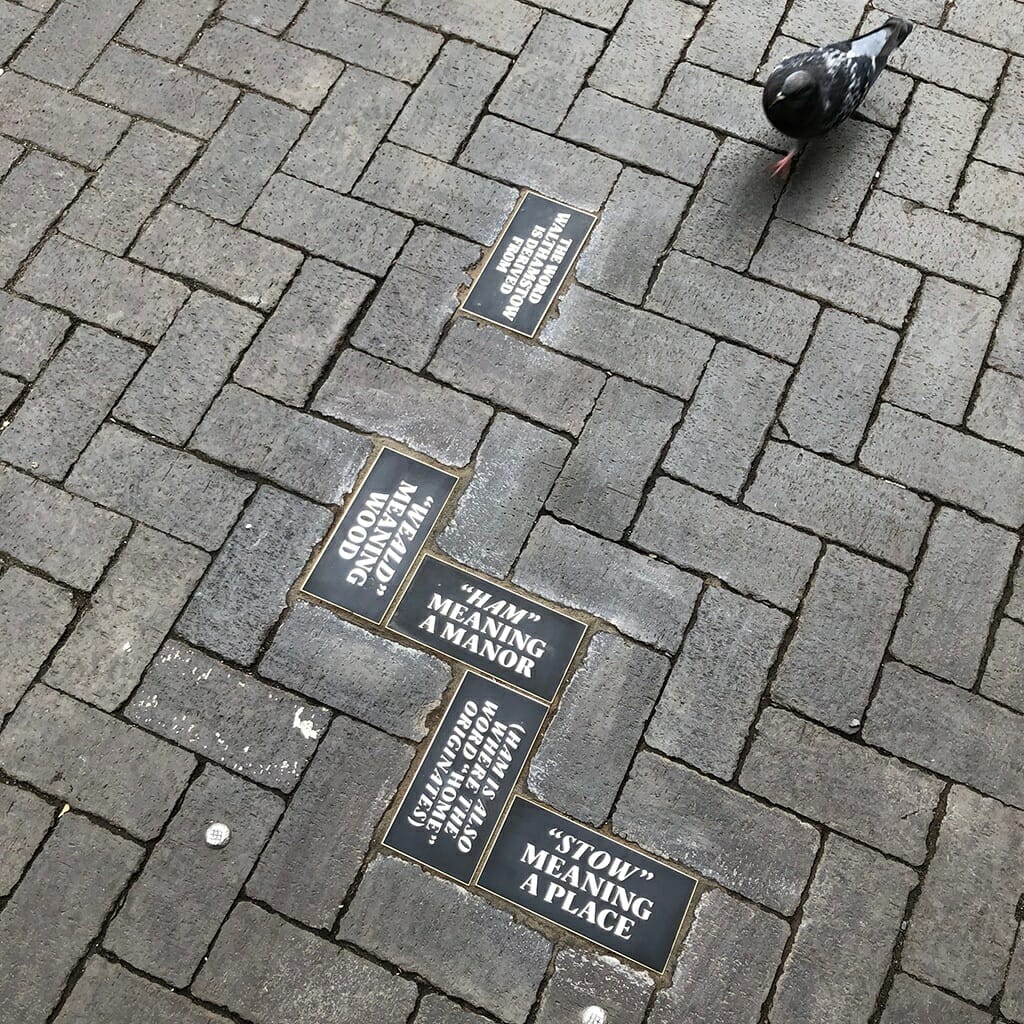 Commissioned as part of a larger art project by the council, Matter architecture and Richard Wolfestrome, they "celebrate and enhance the existing life of the High Street and its connection with the Forest and Wetlands through a suite of adjustments to the market and the public realm. The concept of a woodland walk, with clearings along its length is used to organise aesthetic treatment of existing elements in the street, bringing out local stories and histories and creating moments of pause and intensity."
Now, they are battered and worn, with the black enamel chipping away, weathered by hundreds of thousands of feet and the elements but the engravings still provide a textural contrast.
The printing pirate of Berlin took urban structures like manhole covers, grids, technical objects and other surfaces of the urban landscape, to create unique graphical patterns on streetwear basics, fabrics and paper:
Yes, this doesn't concentrate on typography, but I love how they capture the unseen and forgotten part of our streets and make them into something useful and desirable. The pieces are created on location (rather than an impression taken and printed elsewhere) which gives the feeling a sense of authenticity. It allows passengers to become viewers, observing the process as it evolves. It creates possibilities for communication, exchange and spontaneity. Furthermore production depends on factors like weather, time and season, which makes the project human. This approach takes a critical view and offers an alternative viewpoint on nowadays mass production. A part of the city is being extracted from its origin and brought to new life in a different context. By carrying the image around, people become part of the project themselves.
Emma-France Raff, the main creator of the project, says that their motivations are to stimulate our perception regarding the relationship to our surrounding, refine everyday routines, as well as being sensitive to the beauty hidden in the unexpected.
They run workshops in the street that allow people to make their on personal print, and to stop for a few moments, and appreciate the small things around them.
I wanted some way of showing this part of the environment other than photographs, and decided on brass rubbings. This inspired me to go out with a large pad and crayons one evening to see what I could find. There are a lot of utility covers and the Walthamstow Bricks, and I followed my feet to see what I could find.
Here are some of the images:
The texture gives the images a much more human and yet urban feel that would be impossible to capture with photograph pixels. They aren't perfect: the wind caught the paper and the image shifted slightly, and sometimes the text isn't legible at all! The wearing blurriness contributes a certain something to it. I also captured the patterns, not just the text because they came out much better than the text. I'm not sure what to do with them right now, but building a wider archive than just the lettering will make for a richer outcome.
During the process, I did have a lot of weird looks that I ignored, but a few people asked what I was doing. When I explained, they were charmed and wanted to know more about the project and more about what I had captured so far. Brass rubbings are an old fashioned activity for children in fusty museums, so it amused them for an adult to be doing it so intently in the middle of a pedestrianised high street. Maybe in the future, I can involve more people in getting examples to get people looking around them.