Weekly Learning Objectives
By the end of this week you should be able to:
Research and analyse the different ways in which graphic designers produce work collaboratively;
Research and analyse the essential components of collaborative practice;
Design, write and deliver an editorial piece illustrating a collaborative project that has led to an exemplary and historically significant piece of work (300 words plus imagery).
Collaboration comes in many forms
It was nice to revisit the Migrant Journal by Christoph Miller of Offshore: the glistening metallic inks and the swooping arrow that forms the G. This is what I would term more of a traditional collaboration, and I'll explain what I mean by an untraditional one further down!
Usually, in publishing or any project, the content is followed by the design in the schedule, the what comes before the how. Migrant Journal messes with this timeline and the content, the words, are conceived simultaneously with the design. I would anticipate that in a publication so rich and full of infographics that its both a necessity and product of editorial/design collaboration. It helps, I think, that each issue has one theme tying it together to give razor sharp focus to the contributors.
The team behind Migrant Journal worked remotely in different countries none of them held passports for, and before C-19 struck. This only emphasises that collaboration is possible to matter what obstacles are in our way.
In a similar vein, Danielle Pender and Shaz Madani of Riposte magazine are a collaboration of designer and editorial, how and what. Print seems to be the chosen medium of collaborations of this type – it forces the creator to produce work in a slower way.
Anna Lomax and Jess Bonham are collaborations, but they do not differ in disciplines, rather fundamental approaches to graphic design. Their yin and yang of maximalism and minimalism, high culture and everyday life seems to balance out well, tempered by years of working next to each other at art school. I'm inclined to wonder at the chances that brought the right two people together that could work together with opposites without it imploding! Solid.
Liv Siddal for the Rough Trade magazine, collaborates with one main designer, Bruce Usher, but to keep up with the hectic publishing schedule has regular contributors. This collaboration works on trust, in that she has to trust that her contributors will supply suitable material each month, for example the bands with disposable cameras on tour. I like this form of collaboration because it has a solid base with her and her designer, and has a structure of contributors yet still has freedom.
Now onto the non-traditional types! The previous examples are where collaboration occurs before the point of official publication, The next practitioners, on the other hand, have collaborated differently.
Morag Myerscough creates her concepts with a partner, Luke Morgan, but her most consistent collaborators are her audience. Whilst she was designing the dining rooms in the Royal London Hospital, Whitechapel, she and the poet Lemn Sissay created visual workshops. The children could participate in the workshops and from there she created a typeface to display their poems and their favourite word DAZZLE. Although the bright colours match her signature, the content was drawn from the children so that they could see themselves reflected in the space they were staying in.
In another hospital setting, she presented her bold designs to the nurses of the children's ward that were met with initial reticence. When she sent up models of how the rooms would look, the nurses showed their patients who reacted positively and from that she gained their trust. She took their idea of a blue room for some patients, and with their support the project was a mistake. She continues to collaborate with them by listening to feedback and suggestions from the patients and their families.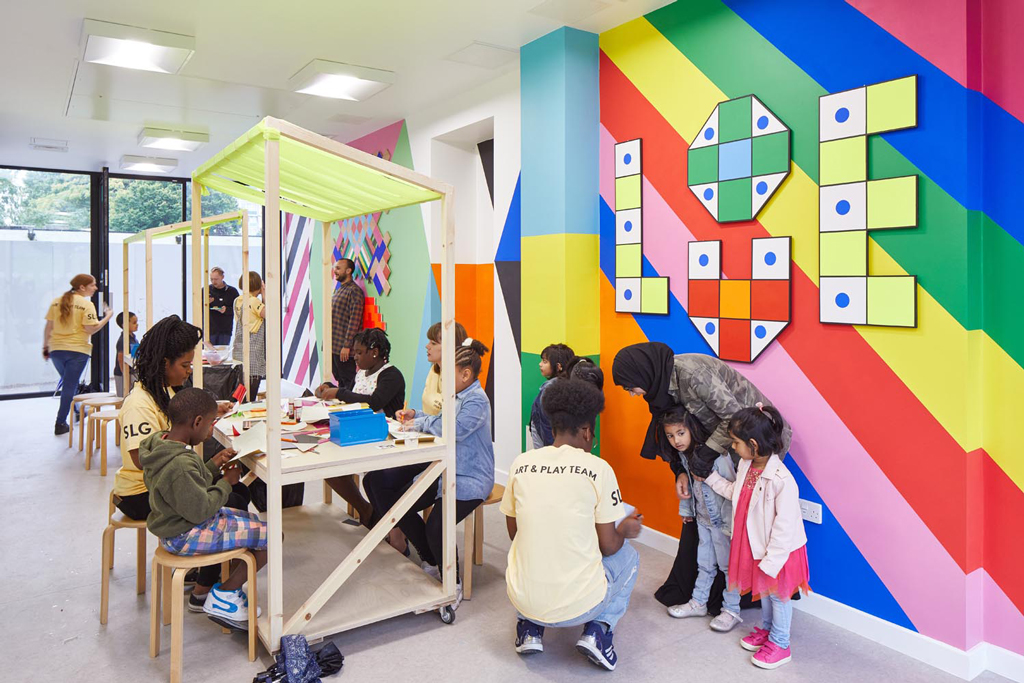 In the project Club Under My House, Myerscough collaborated with the community and South London Gallery to create a space in which children from the building above could come together to make art. From workshops where children and teenagers drew patterns that were featured on the walls, she learnt that they wanted a space they could dance, sing and perform. Hence, the name of the project.
I could go on about Myerscough amazing projects, however I think that key to her work is her engagement with the communities she creates in and her listening to people informs her work so that it becomes their work too.
Hato and Kellenberger White also have fascinating projects… I haven't forgotten them but they have sparked ideas that I will go on to reference in later weeks…
Building Blocks of collaboration
Trust
A learned, and/or implicit, trust that the people involved have the successful completion of the project as their focus
A Sweet Spot of numbers
Sometimes a project needs greater numbers of people to weigh in to make sure that it is well received, at the same time too many people can cloud the water. I don't think there is a hard and fast rule of numbers, just experience and numbers!
Communication
How the collaborators communicate and how openly they do so can make a break a project
Understanding of practice
Does everyone understand where the other collaborators are coming from, and who the project is really for? Will it work for the intended audience? Are the collaborators the best place to fulfil these roles?
Common Goals
but also skills that complement each others
Resources